Cultural shock! Part 1 – Kyiv
July 29, 2019
NEW TRIP
My husband and I went to Ukraine in July to celebrate my great grandma's 95th Birthday. The last time I've visited her and relatives was 8 (!!!) years ago so I thought – definitely it's time to go. Tickets cost us just £54 (Skyscanner) each both ways, which is pretty cheap + train and taxi to the village. I think overall we spent not more than £110 each including all tickets, food etc..
So we started quite early, the flight to Kyiv was at 6:45 AM. We took the car and parked it at long-stay parking space (+ £60 for a week), which is still cheaper than If we took National Express :D. From there we took a free bus to the terminal which comes every 5-10 minutes and it takes around 15 to get to the terminal. Because Ryanair wasn't late this time (we were shocked!), we didn't have time for breakfast and coffee so got some sandwiches and went right to the boarding. 3.5 hours later – hello Kyiv, hello Borispol!
I've never flown to Kyiv before, only went by train so I was a bit confused about how to get to the city..we had 8 hours before the train and were starving and quite tired + I had to find wifi asap and get a decent part of work to be done because 3G cost a fortune (roaming…'cause Ukraine is not quite in the EU yet). We tried a bus first. It costs 20 UAH (£0.64) to get to the metro and metro ticket costs just 6 UAH (£0.19) per person.
So we spent around half an hour on the bus because they struggled to get enough people for one travel. At some point shuttle coming from another terminal hit the side view window and smashed it. Along with that some part of the front window cracked, of course, we couldn't get anywhere from there. Money was returned and we were suggested to wait for another bus (5-10 minutes) but we were so tired that decided to get a taxi. Uber cost us 180 UAH (£5.75).
So that's where the cultural shock hit Dec at first.
The airport… Security check on the entrance to the airport in addition to the main security check after passport control,
Bus situation,
What metro entrance looks like (quite a big market, slightly visible metro sign and shops in transit between a street and the station itself),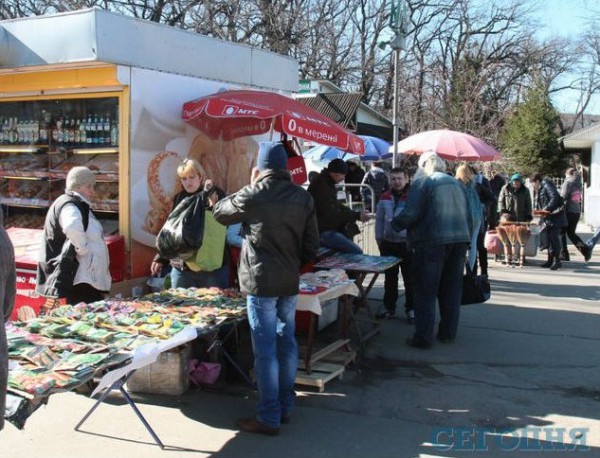 4. Architecture. It's very different from English and European.
Hello Kyiv.
We are in Kyiv! We have found a nice place to eat, haven't found any traditional Ukranian food yet but found wifi!  After a few hours, we decided to go out because needed some fresh air. Walked quite a long distance to  local sightseeing:
St. Sophia's Cathedral
Independence Square
Golden gate
St. Michael's Golden-Domed Monastery
I think Dec was also shocked by churches. First of all, how gorgeous they are, second of all, how much money was invested in them all – paintings, golden tops, golden details inside, no donation-based candles, but you have to pay for them. He also adored the singing in the churches. Because it's also very different from the English ones, he enjoyed listening to priests singing in the church (perfect acoustic as well).
Walking quite a distance we finally reached the train station and that what put Dec in a bit of shock. A LOT of drunk and homeless people were walking around…maybe waiting for the train, maybe just spending some time inside the building. Actually, another thing I forgot to mention is an amount of homeless old people on the streets…or if not homeless but very poor asking for money here and there.
When went to a small local cafe to get some snacks with us, while we got sandwiches, juice, some men were just buying shots of vodka.
"Boarded", took our beds. Yup, not seats, beds 🙂 We were very excited to finally lie down and have some sleep, also because Dec has never slept on the bed in the train! Around 1:30 AM arrived in Shostka and from there took a taxi to Kovtunovo village where my untie met us and after some tea, we finally fell asleep. Long day, lots of emotions, work, walking, travelling and some cultural shock for Dec.
I will tell you more about our Village holiday in the second part very soon!
Happy Travelling
xx
THIRD TRIMESTER!! 3 days away from the due date people!!! Listen to the fresh podcast 😉